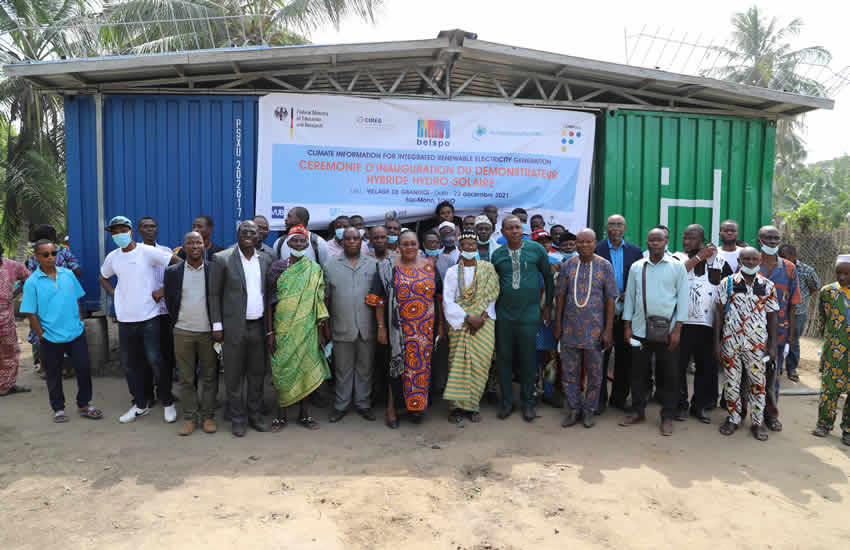 RENEWABLE ENERGY: WASCAL IMPLEMENTED HYDRO SOLAR ENERGY DEMONSTRATOR IN TOGO
Under the CIREG (Climate Information for Integrated Renewable Electricity Generation) project, the village of Gbandidi in the department of Bas-Mono, located at about 80 km north-east of Lomé, Togo is equipped with a hybrid hydro-solar electricity demonstrator. The project was technically and financially supported by a consortium made of several research institutions from western countries including Germany, Belgium, Denmark, and Sweden with close collaboration of WASCAL-University of Lomé. The power generation technology combines a turbine that utilizes water velocity in the Mono river at the village and 20 photovoltaic solar panels to generate approximately 10 kW of sustainable energy to the local community. The equipment is first in its kind in the West African region and is also a laboratory for the research community.
The energy generated by both source of energy is stored in a high performance-set of batteries in order to secure permanent energy availability.
The energy is used to provide various services to the population including:
3 public lights;
48 sockets for phones and other rechargeable electric devices;
3 fridges to store river and farm harvest
1 television equipped with parabolic channels for public leisure
The project started in 2018 but has to stop in 2020 because of COVID-19. The activities resumed in 2021 and the unveiling ceremony of the equipment took place on December 22nd, 2021 in the presence of the representatives of several institutions such as:
University of Lomé Secretary General;
Togolese ministry of rural electrification;
The Representative of the project's Funding Consortium;
WASCAL-University of Lomé;
Chiefs of Gbandidi and neighboring villages;
Mayors of Bas-Mono and of Atiémé (neighboring municipality in the Republic of Benin)
Population of Gbandidi and surroundings.

At the end of the ceremony a memorandum of understanding was signed between WASCAL-University of Lomé and the Chief of Gbandidi whereas the keys to access the equipment were handed over to him.
The Gbandidi village was selected because (1) the velocity of the Mono river water at the village is higher compared to others, (2) the village has no access to electricity and has not benefited from any electrification project so far in the country, and (3) the villagers have demonstrated true motivation in the project.
Researcher and the local community are contended with the installed equipment. This is one of the rare occasions where research and service to communities come together in order to solve one of the biggest challenges of our time that is the adverse impact of Climate Change.