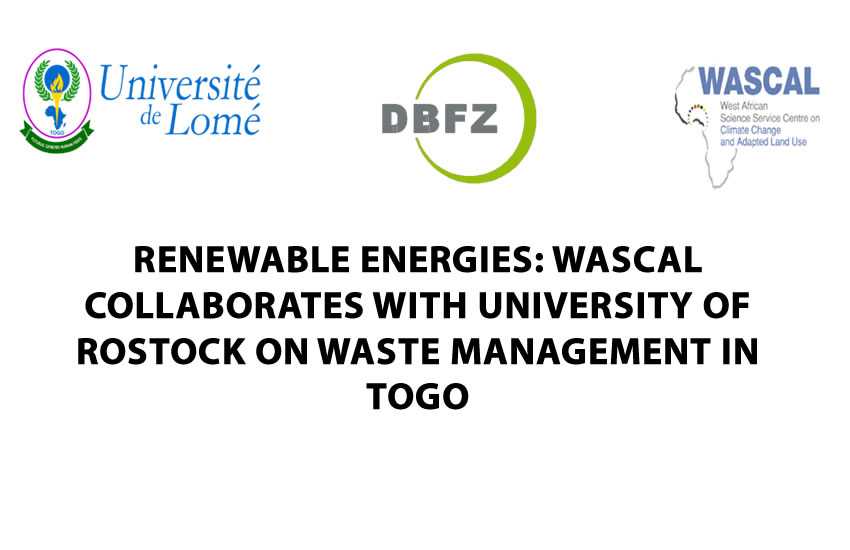 RENEWABLE ENERGIES: WASCAL COLLABORATES WITH UNIVERSITY OF ROSTOCK ON WASTE MANAGEMENT IN TOGO
Under the framework of a Biogas production laboratory installation at Université de Lomé, the WASCAL-DRP-CC&DRM with the support of the Department of Cooperation of Université de Lomé (DIRECOOPS) invited Prof. Dr. Habil Satyanarayana Narra, Deputy Director of the Department of Waste Management of the Faculty of Agricultural Sciences at the University of Rostock in Germany for a two-day activity in Togo. The activities include two seminars and biomass potential field visits.

This visit is part of the implementation of specific activities under the Renewable Energy Development Programme in Togo, particularly the first axis relating to "development of research and demonstration capacities for technologies for the use of biomass potential in Togo (LABTOGO) project".

On Wednesday July 21, 2021, at the WASCAL-Lomé Center, the Professor led a first seminar entitled: "Waste management engineering" which brought together at least twenty University actors including Centers of Excellence of the Université de Lomé such as: CERME and CERVIDA-DOUNEDON. Were also part of the seminars, the representative of the Ministry of Energy and Mining, Officials of the Municipality of the Golfe 3, the Director of CIMTOGO (cement production unit of Togo), the Director of GIZ (German Agency of International Cooperation), and other actors involved in the renewable energy sub-sector in Togo.

Professor Narra has also held a second seminar on Thursday, 22nd July 2021 at the WASCAL-Lomé Center, bringing together fifty-two (52) students enrolled in a master's degree programme in "Environmental Law and Policy" at the Faculty of Law; and students enrolled in Physics-Chemistry at the Faculty of Sciences of the Université de Lomé. The second seminar's thematic was titled "Waste treatment in Togo".
The Two-day seminars aimed at building the capacity of the project team on knowledge transfer and new perspectives, and also opportunities development from the project-based results. It is worth recalling that the main objective of the LABTOGO is to research and develop technologies for the use of the potential of biomass in Togo for efficient and healthy bioenergy promotion.

Maybe add a paragraph