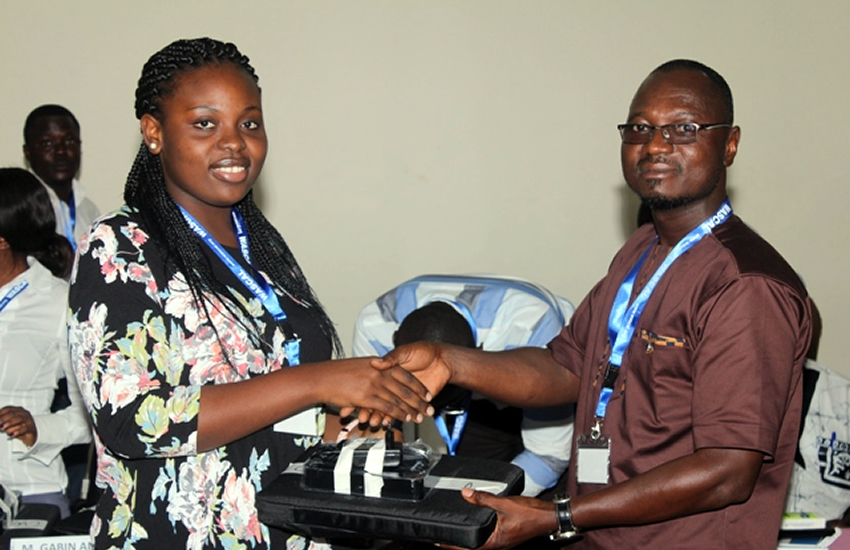 INDUCTION DAY AT WASCAL TOGO
Earlier this year in March 2019, The West African Science Service Centre on Climate Change and Adapted Land Use (WASCAL) called for applications within its member countries for its International Climate programs. Following the call, several African students applied for twelve different PhD programs which are offered by the Organization. The program selected in total hundred and thirty (130) best candidates; thirty five (35) candidates are from English speaking countries; and ninety five (95) candidates come from French speaking countries among which the Togolese applicants account for fourteen (14). As WASCAL PhD Scholars, they have enrolled in the organization's Climate Program. Once again, the Federal Republic of Germany and the Federal Ministry of Education (BMBF) have fully backed WASCAL's initiative to train adequate Climate Change experts in West Africa for a fourth batch of students. Thus, WASCAL started its 2019-2020 academic year with the set of new students. They came from French and English speaking countries of West Africa and are currently gathered in two West African Universities to take language courses. As WASCAL Anglophones' French classes began on September 16th, 2019 in Lomé, the WASCAL Francophone counterparts have been taking English courses at the University of Cape Coast, Ghana. Core courses are planned to start in January 2020.
The WASCAL Center of Lomé, Togo, organized therefore, on Monday 21st October 2019 an official Induction Day for the Anglophones. These thirty five Anglophones are from The Gambia, Ghana, and Nigeria.
Were present at this ceremony, the Head of BMBF's Climate Team, Mr. Gabin ANANOU; the Director of WASCAL Togo; Pr. Komi AGBOKA, the Deputy Director of WASCAL Togo; Dr. Komi BEGEDOU; and Dr. Lucas ASSOTI, Director of Studies of CIREL-Village du Benin among others.
CIREL (Centre International de Recherche et d'Etudes de Langues) also known as Village du Bénin is an International Research Centre for Language Studies under the Ministry of Higher Education and Research of the Togolese Republic; the Centre provides educational activities in French and English Language Research and Studies as well as educational and cultural knowledge development.
The official induction ceremony occurred at the University of Lomé Campus. The students were advised to take the Programme seriously with a sole objective to complete and graduate within the timeframe set out in the Organization's regulations. The rules and regulations to govern the program were shared with the students.
By sponsoring French language classes, WASCAL breaks French language barrier among the learners yet to become Climate Experts in the West African sub region. This three-month French course is intended to facilitate cultural and social integration of students in their various target countries of study.
In addition, BMBF offered on this Induction Day thirty five (35) laptops as an aid to students for their PhD program. The grant should be used wisely and be preserved properly. On their part, the students equally noted that in case of drop out, those laptops must be returned to WASCAL.
Below is the list of the new PhD students enrolled in the program:
| | | | |
| --- | --- | --- | --- |
| S/N | SURNAME | FIRST /OTHER NAMES | MEMBER COUNTRY |
| 1 | ABOKYE | Prince | Ghana |
| 2 | ABUNKUDUGU | Asaa Akunai | Ghana |
| 3 | ADADE | Richard | Ghana |
| 4 | AFFUL | Chineboaba Araba | Ghana |
| 5 | AMOAKO | Jacob | Ghana |
| 6 | ASANTE | Michael | Ghana |
| 7 | ASONIBARE | Femi Oluwatosin | Nigeria |
| 8 | AWOLEYE | Peace Olubukunmi | Nigeria |
| 9 | AYIM | Samuel Mintah | Ghana |
| 10 | BALDEH | Demba | Gambia |
| 11 | CAMARA | Jalamang | Gambia |
| 12 | CEESAY | Ebrima K. | Gambia |
| 13 | DIBBA | Bintou | Gambia |
| 14 | DORDAH | George Alexander | Ghana |
| 15 | FRANCIS | Phillips Chimezie | Nigeria |
| 16 | GOMEZ | Muhammad Leroy A. | Gambia |
| 17 | IBOKO | Madaubuchi Paul | Nigeria |
| 18 | KARGBO | Alpha | Gambia |
| 19 | KAYODE | Florence Abiodun | Nigeria |
| 20 | KUMAH | Florence Jessica A. | Ghana |
| 21 | KWAWUVI | Daniel | Ghana |
| 22 | MORTEY | Eric Mensah | Ghana |
| 23 | NJIE | Teeda | Gambia |
| 24 | OCHEI | Michael Chukwuemeka | Nigeria |
| 25 | ODOOM | Peter Rock Ebo | Ghana |
| 26 | OJELABI | Oluwatoyin Khadijat | Nigeria |
| 27 | OKELEYE | Sunday Opeyemi | Nigeria |
| 28 | OLADEJO | Hafeez Opeyemi | Nigeria |
| 29 | OWA | Olalekan Oluwatobi | Nigeria |
| 30 | OYEDELE | Peter Boluwaji | Nigeria |
| 31 | PRATT | Dawn Oredola | Gambia |
| 32 | SHARI | Babajide Epe | Nigeria |
| 33 | UGBOR | Ogechi Nnabuchi | Nigeria |
| 34 | EZEH | Christopher Uche | Nigeria |
| 35 | SANNEH | Lamine | Gambia |